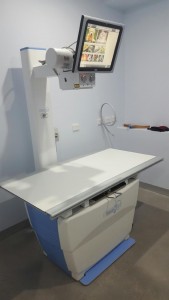 Wellington Village Vet is well equipped with many tools to assist Veterinarians in finding out what is wrong with your pet. We encourage preventative health care for our pets but sometimes despite our best efforts our pets still get ill.
At Wellington Village we have a computerized radiography system.
This allows us to take radio-graphs and be able to view the image in a few minutes. Our radiography suite has been designed so it has easy access from our surgical and treatment areas.
As mentioned earlier we have an in house laboratory which is home to our blood machines. Our blood machines provide valuable information in the case of sick animals but are also used as a screening tool for patients undergoing anaesthesia. This equipment is very helpful as we can get answers in as little as 15 minutes instead of waiting for results from an external laboratory.
We also have an ultrasound which is a non-invasive way of getting a better idea of what is going on inside your pet.
The ultrasound uses sound waves to bring images back to screen. This gives the Vet an instantaneous picture of internal organs and can assist in diagnosing what may be wrong with your pet.
When your pet is sick the first step of diagnosing your pet's illness is to have a private consultation with one of our Veterinarians. This gives the Veterinarian the chance to perform a physical exam as well as discussing options for investigation and treatment. We will always provide multiple options for the treatment plan. You will then be provided with an estimate for the care so you are aware of costs. During your pets stay in hospital you are encouraged to phone at any stage for an update. Our Vets will contact you every 24hours with an update on your pet's progress as well as an update on the bill.