Dr Nigel Edwards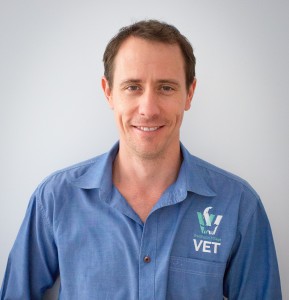 Nigel is our head Veterinarian and works full time at the Clinic, except for Thursdays. Nigel grew up on a small farm near Armidale in northern New South Wales where his first act of Veterinary medicine was splinting a goat's broken leg at the age of about 13. The goat went on to make a full recovery and he was never going to have any other career.
Nigel graduated as a Veterinarian from the University of Queensland 2003 (with Honours) and went on to complete a Master of Veterinary Studies in Conservation Medicine through Murdoch University in 2006.
After 18 months in mixed practice in Victoria, he moved to the UK where he worked as a locum for 4 years in a variety of mixed and small animal practices. Highlights of his time there included checking the ears of Sir Elton John's dog in Kensington and trimming the horns of Her Majesty's Sheep near Windsor Castle. He did 2 summer seasons in Antarctica as a leopard seal anaesthetist for a scientific research team before returning to Australia for 2 years in a busy 24 hour practice in South East Melbourne.
Nigel's last 5 years have been spent in research and development for a major animal health company, refining his knowledge of the most up to date animal treatment and prevention options available to the veterinary industry.
His main interests are in preventative medicine (including dental health and hygiene), pharmacology and soft tissue surgery.
When he's not spending time caring for your pets at Wellington Village Vet, Nigel's is occupied with his wife and 3 children, as well as the family dog Nacho. Nacho joined the family as part payment for trimming a pony's feet somewhere on the outskirts of Dandenong. He is assumed to be part Jack Russell terrier, part Maltese, part something else and part something else. When people ask what breed he is Nigel finds it easier to tell them he is a Dandenong Terrier.
Dr Shannon Currin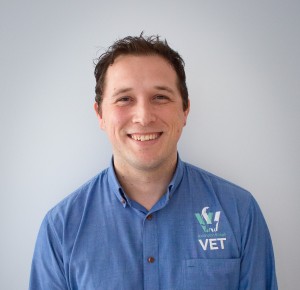 Dr Shannon graduated from the University of Melbourne with Honours in 2008 and you will find with us at Wellington Village Vet on Thursdays.
Shannon is a caring and compassionate Veterinarian who loves meeting new people and their pets, and constantly strives for excellence in his work by practicing gold standard care.
His philosophy as a Veterinarian is that communication is paramount when providing best possible care and he will always endeavour to make sure that owners know exactly what is happening with their pets and that they are also aware of all of the treatment options that are available to them.
Shannon has a strong background in emergency and critical care and is a member of the Australian and New Zealand College of Veterinary Scientists having passed advanced examinations in this field. He enjoys the challenge of the unusual and complex medical case and also has interests in diagnostic imaging. His true passion lies in improving animal wellbeing and animal welfare and he currently also works as an animal welfare officer in industry.
When Shannon is not working in the exciting and fast paced world of Veterinary medicine he enjoys spending time at home with his wife, four kids and his menagerie of pets - 2 dogs (Spoodle and Mini Dachshund), 4 cats (2x Abyssinians and 2x shelter moggies) and 2 mini lop bunnies
Dr Marcus Cheung
Dr. Marcus is an experienced vet who works full time with us, having joined us in May 2019.  Marcus graduated from the University of Queensland with Honours in 2013 and can be found running around the clinic most days, consulting, performing surgery and helping out behind the scenes. 
He started off as a mixed animal veterinarian in Dubbo, NSW, keen to gain as much experience as possible.  After a three year stint of treating all animals of all sizes, from dogs to cats to alpacas and even a turtle once, he decided to make the move to Melbourne after falling in love with the city on a weekend trip here. 
Marcus has a keen interest in medicine and surgery of dogs and cats, particularly in regard to the musculoskeletal system. He has also undertaken further study to become certified in veterinary acupuncture and TENS therapy. 
At home, Marcus is kept busy by his two little rescue chihuahua's, Simba and Coco. 
We look forward for you to meet Dr. Marcus on your next trip into the clinic!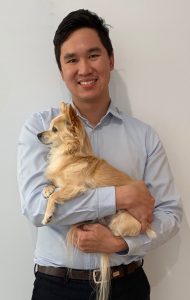 Dr Belinda Dennis
Dr Belinda grew up on a hobby farm in Macclesfield surrounded by a menagerie of animals that were all viewed as family members. It was clear from an early age that any future career prospects would need to involve animals and these experiences helped shape the way she would approach her profession in the future. Her philosophy is to treat every animal as if it were her own and approach each situation with honesty, empathy and the highest standard of care.
Since graduating from The University of Melbourne in 2011 she has gained a variety of experience working in animal shelters, emergency hospitals and general practices.
Belinda has a keen interest in small animal surgery, preventative medicine and small animal medicine. She is comfortable seeing birds and especially enjoys seeing poultry.
Belinda currently works part-time as she has an extremely active toddler to keep her busy (and #2 is on the way!) Her 4 legged family members include 'Moose' (her first child) and her 2 cats 'Rooster' and 'Sushi'. Her feathered family are 6 pekin chickens 'Mallory', 'Lana', 'Cheryl', 'Pam', 'Betty', 'Trudy' and 'Peggy'.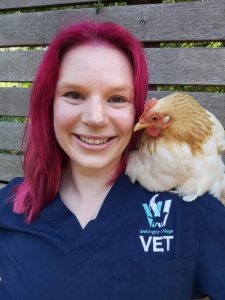 Dr Cathy Wong
Dr. Cathy grew up in Hong Kong with a variety of pocket pets as a kid, including (but not limited to) a family of hamsters and a pair of chinchillas name Pikachu and Jigglypuff. She came to Australia to pursue her childhood dream as a vet and graduated from University of Queensland in 2013 with Honors.
She started out as a country vet in NSW and moved to Melbourne in 2017 for a more small animal focused career. Cathy has worked full-time at a rabbit and guinea pig specialty clinic for 2 years before joining WVV in late 2020, when she realized she missed working with cats and dogs. She has a keen interest in small mammals, soft tissue surgery and ultrasonography. Her philosophy as a vet is putting a pet's quality of life above all.
Cathy is a self-confessed coffeeholic and food nerd. Her favorite past time is trying out new eateries, or cooking up a storm in the kitchen attempting to recreate dishes she tried.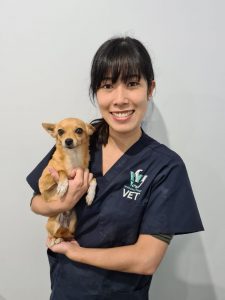 Tayla
Tayla started her nursing career 12 years ago at just 14 years of age, where she began working in a busy mixed animal clinic. 
She completed her certificate IV in veterinary nursing in June 2016 and began working at Wellington Village Vet in February 2018. Tayla is our main surgery nurse & you can find her looking after you furry friends while they stay in hospital with us.
Tayla loves all aspects of her job especially teeth cleaning and nutrition, so much that she runs our weight loss programme.
In her free time Tayla enjoys travelling and hanging our with her beloved Italian greyhound named Miles.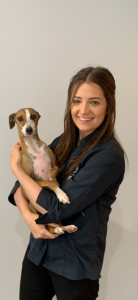 Sarah
Sarah has been Veterinary Nurse for 17 years and joined the team at Wellington Village Vet in 2017. 
Sarah loves all aspects of Veterinary nursing and enjoys working in reception, surgery or in the hospital. 
Sarah has a passion for puppies and new dogs and providing owners with advice on their new furry family member.
When Sarah isn't working she enjoys outdoor activities with her family, including bike riding and camping.
At home she enjoys walking her dog Kesha who is a Labrador.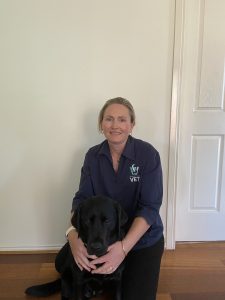 Kelly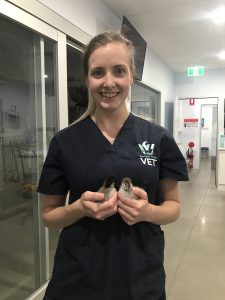 Kelly began nursing over 11 years ago. She started off working in a busy emergency clinic where she completed her Cert IV in Veterinary Nursing. She has a special interest in surgical and emergency nursing.  In her spare time, Kelly enjoys camping and spending time with her young family. Kelly is the proud owner of 2 staffy's, Shelby & Jett.
You will find Kelly here at the clinic only a couple of days a week at the moment, but you can be sure she is smiling when you do see her. 
Chloe
Chloe has been with us since August 2018 while completing her final year of studying Certificate IV of Veterinary Nursing. Chloe enjoys reception and assisting with the hospitalization cases aspects of veterinary nursing. Chloe also volunteered at a wildlife shelter prior to working here and has a special interest in wildlife.
When not at the clinic, Chloe can be found at the beach or hanging out with her two dogs, Ziggy, a Doberman, and Dayna, a Beagle X.
Kylie
Kylie studied veterinary nursing at Box Hill Tafe and Graduated cert IV in 2000.
Over her nursing career she has worked as an ER nurse in emergency centers, Surgical Nurse at orthopedic specialist centers in Melbourne and Queensland and managed clinics in general practice.
Kylie has always had a passion for animals and assisting in surgery.
Kylie has 2 kids now both in school which keep her very busy, 1 lazy St Bernard Henry and a beautiful rescue bulldog x Nelly.
In all her spare time she loves to getaway camping with her family, dogs and friends.
Kylie had the pleasure of working with Nigel in 2015 and is now excited to join him in his own clinic and his team at WVV.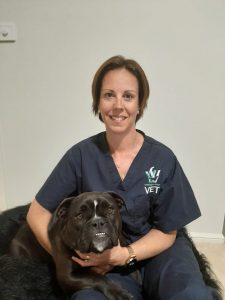 Jaymie
Jaymie is currently completing her cert IV in veterinary nursing 
She has a passion for animals and is excited to be working in clinic and looking after your furry friends while they're in hospital.
While not at the clinic you can find Jaymie hanging out with her two border collies, Toby and Diva, as well as her cat Blair.