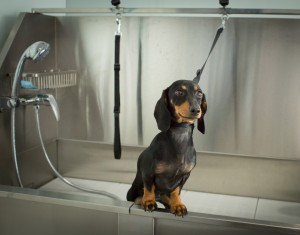 Our custom designed Doggy Day Spa provides a tranquil and invigorating experience for our canine friends.
We have custom designed the room so it remains practical but also provides a calming and soothing environment for our canine visitors.
Our Doggy Day Spa is different from a hydro bath as our bath has a constant supply of fresh water and does not use recycled water.
It is fully equipped with a hydraulic lifted bath, a dryer, shampoo and conditioner available for each patient. The hydraulic bath allows dogs of all sizes to be bathed comfortably without compromising our staff or your back.
Our Doggy Day Spa is available for bookings for personal use if you wish you bathe your dog yourself.
Please contact the clinic today for bookings and availability.